It seems that starting this blog back up in the year of 2017 might of been a bad idea. It appears that we live in an era where your social media posts will be investigated in order to allow your movement from country to country. Not that I'm planning to travel mind you, it still seems like a good idea to delete everything. I'll see how this all pans out. Maybe I should code this so it looks like all I watch are christian dramas instead of horror movies and old porn?

028 01/29 Gymnasium Jim (1922) 4/5   Last blog I mentioned the Mack Sennett set that was taking me forever to get through. It's films like this one that make it all worth it. Billy Bevan stars; sharp eyed horror fans will recognize him from bit parts in Universal's Monster horror films like The Invisible Man. Bevan plays a mechanic who is trying to woo a girl while getting caught up in a fight to steal his inheritance. The plots just an excuse for 20 minutes of non-stop, surprisingly complicated gags. So while lacking in some of the sophistication that the big three (Chaplin, Keaton and Lloyd) brought to their shorts, Bevan more than makes up for it in energy.

029 01/31 Blood Mania (1970) 2.5/5   A title like that sets some high expectations. Sadly, this one doesn't meet any of them. A woman is teaming up with her deviant boyfriend to knock off her father for an inheritance. It's best described as either a shitty horror movie with no blood or a mediocre melodrama that tries to spice things up with some cool horror stuff at the start and the end. The only thing that really saves it is it's relentlessly sleazy with unnecessary nudity.

030 02/02 Point of Terror (1971) 2.5/5   This one was the second feature on the same disc as Blood Mania; being produced by the same person, Peter Carpenter who also stars in the pictures. This one he plays a nightclub singer who's willing to do anything to get that big recording contract. Like Blood Mania this one is more of a melodrama than a horror or spook film. I enjoyed this one a little more, mainly due to all the corny songs and dance numbers. Carpenter is actually quite good and it helps to hold your interest.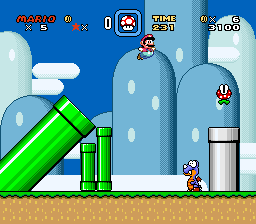 02/04 Super Mario World (1990) 3.5/5   Finally finished this one. I say finally since it took me all week in small chunks and I found it really hard. Which is annoying since it's made for kids, right? I'm getting soft in my old age. That said, it's an amazing game and despite being 25 years old doesn't really look or play dated. The Super Nintendo might of been the greatest console of all time.

031 02/04 Gilmore Girls Season 4 (2004) 3.5/5   Oh those crazy girls! This one sees Lorelai busy trying to build and open her dream project, The Dragonfly Inn! Rory is off to Yale and there's surprisingly little shenanigans. Most of the drama of the season is with Lorelai's dad going into business on his own and taking on a partner who Lorelai ends up dating. This season is a bit of a drop compared to the first three and some of the quirks are wearing a little but it's still worth watching since the writing and acting is so solid.

032 02/04 Taboo 4 (1985) 3.5/5   The Taboo series is one of the most iconic in adult and easily one of the more creepy ones to watch. This one really gets over the top with pretty near every variation of incest happening. It's awkward to watch, but also a really accomplished film. Jamie Gillis stars as a therapist that specializes in incest issues and really puts in a career best acting performance which makes the scene with his daughter all the more disturbing since there's no shit porn-acting to make it all ridiculous. The Blu-ray from Vinegar Syndrome is great, featuring a new interview with Ginger Lynn in which she reveals that she wasn't comfortable with the film back in the day and still isn't. Sleazy stuff for sure.
You can tell that this post features movie watching from the end of the month since it went from silent films to sleazy porn. I get my Vinegar Subscription at the end of each month and it gets priority! Don't worry though, next blog will have some class. I'm taking a Gilmore Girls break to watch Academy award nominations. And the rest of my Vinegar Syndrome pack, so it wont be all classy.