Another week of film, film fans! Catching up on special features from discs I watched in October, but snuck in a few films.

410 11/01 Desperate (1947) 3/5   Better than average noir about a truck driver that gets roped into committing a crime and has to clear his name. Main issue is that lead Steve Brodie is completely overshadowed by heel Raymond Burr, so you find yourself waiting for Burr to show up instead of getting wrapped up in the main story. Still good time though.

411 11/01 Train To Busan (2016) 4/5   South Korea proves once again that they are one of the best at producing genre movies. If there's a tired genre, it's the zombie film. Having a contained outbreak on a literal train is a bit of a stroke of genius, and the film completely delivers not just the action, but enough humanity that you may find yourself tearing up.

412 11/03 Ronin (1998) 4/5   It's a film that's  completely driven by a MacGuffin, but it's so well done it's hard not to love it. The car chases are great, but what really keeps it interesting is the film never feels like it has to give everything away as far as the characters go, as well as the purpose of the plot. Makes for a tight action film and at a level with John Frankenheimer's other classics.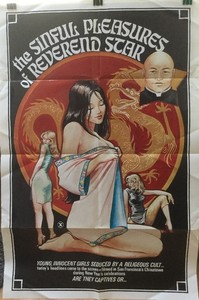 413 11/03 The Sinful Pleasures of Reverend Star (1977) 2/5   A cult is using hypnotism to prey on young women in this poverty row porno. Not much to make it stand out.

414 11/04 Never Sleep Again: The Elm Street Legacy (2010) 4/5   Massive, four hour documentary going into the complete Elm Street history and featuring nearly every major person involved. If you're interested in the history of the series, this one is for you since it's made for the fans.

415 11/04 The Strange Love of Martha Ivers (1946) 3.5/5   Film noir about three childhood friends who cross paths as adults. Barbara Stanwyck is Martha, and neither Van Heflin or newcomer Kirk Douglas are a match for her. Stanwyck really is just the best.

416 11/04 Definitive Document Of The Dead (2012) 3.5/5   Documentary on George A. Romero. Starts off strong, going pretty deep in the process with Dawn Of The Dead, but starts to wander later on. Still well worth a watch.

417 11/05 Leviathan: The Story of Hellraiser and Hellbound: Hellraiser II (2015) 3.5/5   Massively detailed and long documentary on the making of the two films that manages to tell everything you want to know, without the participation of Clive Barker. Which means that despite how packed with info and stories it is, you can't help but feel like you're missing something.

418 11/05 Django Prepare A Coffin (1968) 3/5   I've not dived into the Django films, which means I was honestly lost for most of the set up to this film as I'm guessing there's a presumed familiarity at play with it. Once it got going it ended up being a good but not particularly memorable spaghetti western.
419 11/05 Hell On Earth: The Story of Hellraiser III (2015) 3/5  Significantly shorter documentary by the team that brought you Leviathan. It's the story of Hellraiser III which sadly never mentions cult porn legend Flame as one of the dancers, but tells you everything else you need to know about the film.