Last night I had a dream that I went to the secret Chinese food restaurant at West Edmonton Mall. Secret because it's where the old China Town part of the mall used to be. Just down from Bourbon Street, and to get to it you had to go through double delivery doors beside the Fuji Banana Frosty stand. The restaurant is much nicer than it sounds, with classy, modern decor. This is the third time in about 16 years I've gone to the restaurant. The same guy is running it and pulling customers through the delivery doors like a club hawker, leading them down the maintenance hall to the restaurant proper. The food is good, though I can tell they are on hard times. The visibility is terrible after all. You have to look for it. The wait staff were sneaking pieces off of my plate. I left without paying. None of this is real, none of this existed in the past, but I have strong memory of it. My brain takes this as "Happened", not "Dreamed".
Thin on the movies this week, for reasons apparent in the reviews.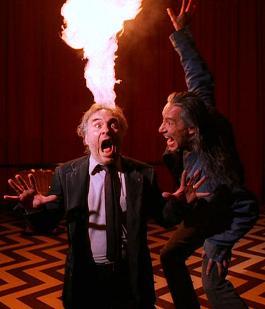 167 06/09 Twin Peaks Season 2 (1991) 4/5   People consider this one as going downhill compared to the first season but I really enjoyed it this time round. It's true, it goes for a bit of a wander once the Laura Palmer stuff winds up, but once the Windom Earl plot ramps up it's just as good as that as what came before. The final episode is one of the best in the entire series that absolutely drips in an almost Lovecraftian horror.

168 06/10 Chimes at Midnight (1965) 3/5   I'm really torn with this one. I've been wanting to see it for ages, one of the final fictional films Orson Welle's completed and a Shakespeare adaptation to boot. Technically it's wonderful, the acting it perfect, Welles is fantastic in the lead as Falstaff. The look of the film, shots, editing, all what would expect from Welles and not hurting from a limited budget. Halfway through the film is one of the best medieval battles I've ever seen. The problem is I couldn't understand it. It took me three sessions of watching, backing the film up to re-watch, I just couldn't follow the plot. I don't know if it's the time of night I was watching or I'm just too dumb about Shakespeare but I couldn't tell you anything about it plot wise. I'm giving it three stars since I think it's better than I found it and I will give it a second chance some day.

169 06/10 Twin Peaks: Fire Walk With Me (1992) 4/5   Time has been kind to this one. I remember how hated it was when it came out and looking at it now, I'm guessing it's due to not being fun. Instead it's a terrifying look at the last days of someone suffering from serial abuse from a parent and the film looks at it while asking "What if the evil that men do was an actual entity that could control us?" It's more horror film than anything else and the only sour note I have is Chris Isaak is way over his head in the opening scenes.
170 06/11 MasterChef Canada Season 4 (2017) 2.5/5   More of the same. The nice guys finished first.
My Letterboxd profile is currently caught up and reviews appear their first now. I'll probably shutter this blog. Be sure to follow there if you are interested in movies.