It's inauguration week in the USA! What new horrors will 2017 release after the never-ending popular culture death knell that was 2016? Who cares! It's movies we're about here on the rarely read Movie A Day blog! Here's what I tucked into this past week.
009 01/08 The 74th Golden Globe Awards (2017) 2/5   This show is only ever as good as it's host, which means it was terrible since Jimmy Fallon is pretty much unwatchable. The real take away for me though is how completely out of touch I am with the modern day movie business. It's crazy. I haven't heard of 80% of the movies and shows up for these awards. Some movie blog writer, eh?
010 01/08 Come Deadly (1973) 2.5/5   This one was maybe the scuzziest film yet out of the Bizarre Art boxset. A murderer is on the loose, raping and strangling theatre folk. I can't help but think someone saw a giallo, decided to make a hardcore version for a hundred bucks and this was the result. It doesn't work as a suspense or a porn, but the theatre troupe "Hey guys, let's make a movie!" no budget feel has its charms.
011 01/08 Mania (1971) 2/5   This one decides to show up "Come Deadly" by cutting the rape aspect and instead having the murders happen after consensual sex scenes, the features an incest subplot to keep everything gross and scuzzy. A strict headmistress and her son are running a boarding school for troubled girls and the girls are getting killed. Tries to set up a red herring despite showing the face of the murderer during the second killing. Ugly stuff that's a bit too inept to be sleazy fun like "Come Deadly".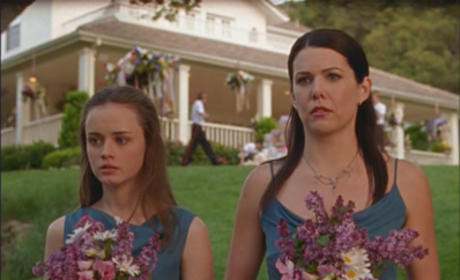 012 01/10 Gilmore Girls Season 2 (2002) 3.5/5   Running the series before watching the Netflix update. This one finds the series getting a more serious tone as Rory discovers the joys of boy trouble as brooding "Jess" is introduced and Lorelai continues to be mostly self absorbed. The show is so well written it's hard not to get caught up in it. Sean Gunn as the ever annoying "Kirk" is really starting to stand out. That said, all the men prospects for the girls are insufferable dip-shits. I've basically turned into their dad where "No man is good enough for my girls!".
013 01/11 Daughters of Darkness (1975) 2.5/5   The weirdness continues with this one. A young writer rents a room from a Satanist hippy chick and gets enthralled by Satanic forces. Sort of. This is one of those old porns that are so cheap and bad while being so ambitious that it goes around the corner and ends up being pretty good.
014 01/13 The Unholy Child (1973) 2/5   The Bizarre Art Theatre set comes to a close with this one. A Navy man returns home to find himself stalked by a mysterious man. Flat out boring porn offering that never delivers outside of how awful it is.
This boxset is easily one of the weirder things I've watched. The appeal is there for nobody. The porn "action" is atrocious, the acting terrible, the plots are horrible, and the look is cheaper than dirt. They have a "Hey gang, let's make a porn film!" vibe which makes zero sense. It all adds up to being pretty fascinating stuff. My only complaint with the set is there's no notes, no explanation, you put the disc in and it starts playing. I want to know more! Where do these come from? Why do they exist? Who thought they were a good idea? You guys didn't even hear about the Bigfoot one, I watched it before Jan 1st.

015 01/14 Ray Harryhausen: Special Effects Titan (2011) 4/5   Harryhausen is easily the most influential special effects man in the history of film, having perfected stop-motion animation. This documentary is the perfect round up of Ray's career featuring himself and others talking about his films and process. It's packed with clips both from the films and behind the scenes. If there's any complaint it's that it nearly all professional and doesn't get much into his private life. Which may be fitting for a man whose life was largely spent alone with models. Great stuff, another must watch for film fans. The Arrow Academy disc I'm watching is feature packed. 
I'm at 15 films on Jan 15th, not bad! As new readers can see, I cheat a bit. Obviously the Golden Globes isn't a movie. It is fucking long though so I count it. TV series get counted as a film when I watch a season. DEAL WITH IT!
Know a film friend with time on their hands? Any comments, shares, tweets etc are appreciated.