Moving into the third week of Summer Cold and now trying not to spiral into depression over it. It's been tough, I'm covering the warehouse at work, it's tough when you can't breath. Anyway, movies!
223 07/16 Secrets from Another Place: Creating Twin Peaks (2007) 3.5/5   A really well done documentary on the making of the TV series. Talks to pretty near everyone that should have been in it, with the exception of David Lynch which isn't much of a surprise.

224 07/17 The Two Mrs. Carrolls (1947) 4/5   Humphrey Bogart stars as an painter who may be poisoning his wives for inspiration. Bogart is fantastic in this one, and Barbara Stanwyck more than holds her own opposite him. She plays an absolutely lovely woman, which only seems strange when you've seen her in dozens of pre-code films playing gloriously manipulative bitches. Man, I love Stanwyck. Anyway, this one is pretty great and worth your time.  

225 07/18 Hail The Conquering Hero (1944) 4/5   Preston Sturges nails another movie. This one about a small town boy who flunks out of the Marines, but ends up being hailed a hero against his will upon his return. Every joke lands, the political commentary is razor sharp and holds up, star Eddie Bracken is perfect in the bewildered lead and I fell in love with Ella Rains. What more can you ask for in a movie?

226 07/18 Shinjuku Triad Society (1995) 4/5   You might think an early Takashi Miike Yakuza picture would be a bit run of the mill and you would be wrong. Really wrong. This one is as bonkers as his more well known films, only playing with Yakuza tropes. Basic plot is the old standard where a cop's brother has started working with a gang specializing in organ harvesting. There's more than that going on. The first in a trilogy, I'm hoping the others are as good.

227 07/19 The Clock (1945) 2.5/5   Judy Garland gets a serious non-musical role in this one, starring as a secretary in New York who stumbles into soldier on leave before shipping out. It's basically like the Before Sunrise series, with the two wandering around falling in love except it's pretty near charmless and there's too many bits. A milk delivery scene goes on way too long. I found Robert Walker as the soldier annoying and none of it really worked for me.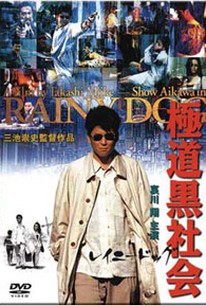 228 07/19 Rainy Dog (1997) 3.5/5   The second film in the Black Triad Trilogy has no narrative connections to the first film. This one deals with a Japanese hitman stranded in Taiwan who discovers that he has a child. There is zero sentimentality to this one, it's got a really bitter feel to it and while not as gleefully bonkers as the first film, this one manages to stick with you.

229 07/21 The Women (1939) 3/5   The most striking thing about this film should be that there are zero men featured in it. I don't believe you see a single male the whole time, you certainly never hear them. That said, the most striking thing ends up being the shocking array of mysterious hats the leads all wear. The other striking thing is Joan Crawford is almost a bit role but she manages to steal the entire film. Which is saying something considering the strong cast. (I'm also still in love with Paulette Goddard.)

230 07/21 Ley Lines (1999) 3.5/5   Final film in Takashi Miike's Black Triad Trilogy is another stand alone film, this time dealing with a group of Chinese/Japanese youths in Japan going to Tokyo in an attempt to get some money to leave the country. It's interesting that the real theme of the trilogy isn't Yakuza/Triad warfare or gang stories as it is about people stuck in a place they don't feel like they belong. It makes for three distinct films exploring similar aspects as opposed to traditional film series. They all work in their own way.

231 07/22 The Seven-Ups (1973) 3.5/5   A sort of unofficial sequel to the The French Connection, this one sees Roy Scheider leading a police task force with a license to pretty much break the law in order to catch criminals. It plays it pretty straight and ends up being better than the actual sequel to The French Connection. A good crime plot and a spectacular car chase in the middle make it worth checking out.
That's all I got this week.