I know I said I would post these every ten films and I'm over again. It was a long weekend, so it made sense to include a full day instead of half a day. It's my blog, I do what I want!

304 10/07 Nightmare Honeymoon (1974) 2/5   A woman is assaulted on her honeymoon and her husband acts like a prick about it. This one looks like a vengeance thriller of the era, but it just plods along never really spooking or entertaining.

305 10/07 Kiss of the Tarantula (1976) 2/5   Another find from TCM Underground that is no great shakes. A young woman uses her beloved spiders to get even with those who would hurt her. Another one that isn't really bad, just never gets really good despite adding in a little sleaze.

306 10/07 The Bad Seed (1956) 4/5   Really enjoyed this one. You know going in what to expect, so in lieu of surprises it's more about watching things play out. And things do play out. Patty McCormack plays the most devious little shit ever seen on film, and it's a heck of a lot of fun watching everyone twist around her. Despite knowing the premise, there are some surprises to be had and the film is surprisingly grim for the era. Worth checking out.

307 10/07 The Intrusion (1975) 3/5   Nasty hardcore feature about a wife assaulted by a home invader posing as a travelling salesman. This genre is sleazy enough without being hardcore so it really gets uncomfortable watching it. Which makes it a success.

308 10/08 Death Watch (1980) 3/5   Harvey Keitel stars as a reporter that has cameras implanted in his eyes so he can follow a woman as she goes through the stages of dying for reality TV in the near future. More Sci-Fi/Drama than the thriller it sounds like, but a pretty solid offering all the same that goes more into character examination than exploitation.

309 10/08 Alice Sweet Alice (1976) 3/5   This is one of those films that always kicked around the cheap bins so I always glossed over it despite the Brooke Shields being the draw. She's barely in it as far as I can tell, and the whole thing is a pretty basic slasher that doesn't offer up much.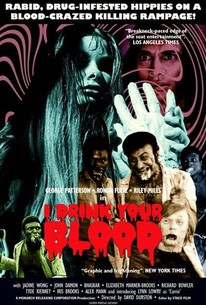 310 10/08 I Drink Your Blood (Theatrical Version) (1970) 3.5/5   The drive-in classic about satanic hippies infected by rabies is far better than it should be. I mean, it's no great shakes, but it absolutely delivers on what it promises which is what makes these exploitation films a success. From limbs being hacked off to dead goats being dragged around, it's not for everyone but for those of us that can enjoy a dumber, gorier Night Of The Living Dead ripoff, it's pretty great.

311 10/08 The Swarm (1978) 4/5   First off, there is no such thing as an actually good killer bee movie. That said, this one is probably the best. A all star cast featuring Michael Cain and legends Henry Fonda, Richard Widmark, Olivia de Havilland among others, playing it straight and acting their asses off in a film that has billions of killer bees attacking the states, you have to respect it. It's an Irwin Allen film, so things get absolutely bonkers by the end with the army lighting up everything with flame throwers. To fight killer bees. And it's not the stupidest killer bee film since it doesn't feature a scene where the bees plead to the United Nations for world peace. (That film would be the glorious The Bees.)

312 10/09 I Eat Your Skin (1964) 2/5   This is the one that became notorious thanks to being billed with I Drink Your Blood, and I can just imagine how disappointed audiences where after viewing it. It's an old school voodoo zombie picture with a scientist creating them as an after effect of his cancer research. Nothing exceptional at all.

313 10/09 Chopping Mall (1986) 3.5/5   In the realm of dopey 80's horror films, you can do a lot worse than this one about a bunch of horny teens partying after hours in a mall. The new security robots go haywire and start attacking. This one is helped by its short running time, it gets to the goods quick and keep the energy going so you stay interested.

314 10/09 Blood Diner (1987) 4/5   A spiritual successor to Blood Feast, I'm rating this one a lot higher than I probably should. Two brothers grow up to follow their dead uncle's wishes to resurrect the goddess Sheetar via a grand feast. I don't typically like horror comedies like this, but they run absolutely wild with the dumb premise, pack it with gore and nudity and I managed to actually laugh out loud more than once at some of the jokes. It all ends up being fantastically entertaining.

315 10/09 The Driller Killer (1979) 4/5   First time watching the "Interpositive" cut, and I'm not expert enough to tell you what is added or missing. At any rate, this continues to be a favourite of mine. Abel Ferrara does not mess around, staring and playing the lead. Packed with grimy New York, from the punk music to the alleys, the whole thing simply works splendidly.

316 10/09 The Devil Rides Out (1968) 4/5   Incredibly strong Hammer offering with Christopher Lee starring as man schooled in the occult trying to save his friend from Satanic forces. Genuinely creepy and authentic feeling, even when things get spectacular. It's great to see Lee in a hero role, and the whole thing is one of the more effective Hammer Horrors I've seen.
This bit from Blood Diner still has me laughing: